In this post I explain the If You Grill Meat, People Will Come design inspiration. This is another design I created in Spring 2021 that came to me in a flash.
If You Grill Meat, People Will Come Design Inspiration
Where Did The Slogan Come From?
The slogan is a play on the famous line from Jerry Maguire, a movie released in 1989, which goes: "If you build it, he will come."
If you can't watch the video above then here's the GIF: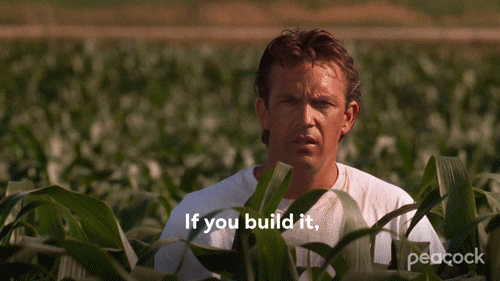 I remember this line parodied on different sitcoms during the 1990s while I was growing up. Yep, I grew up in the 90s. I turned 40 this year and it's unbelievable to think 1990 was 32 years ago! Oh, I'm off track. Let me get back to how I came up with the slogan.
After years of replaying the phrase in my head I came up with the slogan for this design naturally. I love grilling out, and whenever I happen to fire up my grill people come up. When I lived at my old place my neighbor's kids would stare at me while I flipped meat on the grill. Maybe they were hungry, or maybe the fire mesmerized them, I don't know. Now at my new place whenever I grill people still show up even though I didn't invite them. Thus, if you want to hang out but your friends are slow to come, grill them some food.
How Did I Create The Design?
I get my images from Unsplash and Pexels. The images for the If You Grill Meat, People Will Come design inspiration was to be a steak. Because when I think of meat I think of a juicy steak. And I think of a T-Bone/Porterhouse steak because it's my favorite cut.
So I searched for just that and I found the perfect image: A porterhouse steak on a grill. It was like this design was destined to happen. I downloaded and edited the images in GIMP to add the slogan and do other fixes.
Creating this design didn't take much work because the image worked well. Placing the text over the image finished the design.